The Collaboration


The collaboration between Andrea Bakketun and Peter Roessingh started in 2008, when Bakketun invited Roessingh to contribute in her BA-degree project, Comprehension based on walking sticks, umbrella sticks and disconnected emotions, shown at the Gerrit Rietveld Academy in Amsterdam. Roessingh then developed sensors, circuit boards and programs to translate the movements made by Giant Prickly Walking Sticks of insects, into commands for rebuilt, electronic household appliances.

Grand Complications puts emphasis on the importance of collaborations across different disciplines, and how this can enhance our understanding, within the collaboration and outside of it. Art can enter science, mystify an incorporated terminology, make scientific discoveries available, and bring forth the potential of poetry and magic. Art can also function as a portal to own reflections on our surroundings. In the dialogue between artist, science, technology and nature, Bakketun makes room for external forces and both human and non-human intelligence. The collective approach allows the work and working method to develop outside the artists control.

Peter Rossingh (b.1955, Ede/Wageningen, NL) is a professor in biology at the University of Amsterdam. His work investigates how (changes in) the incoming information in an organism, have consequences for the behavioural output, and ultimately on the evolution of new species with different behaviour. In addition he has had a lifelong interest in electronics, computers, robotics and artificial intelligence, and the possibilities to create life-like artificial organisms.

Andrea Bakketun is an artist (b. 1983, Trondheim) living and working in Oslo/Viken. In her artistic practice, Bakketun engages in the physical changes and tension in our environment and link the phenomenons to the human psyche. By exploring the kinetic and metaphysical potential of an object, often refering to science, occultism and every day life, she creates new connections between different realities. Her practice involves installation, sculpture and video-based work.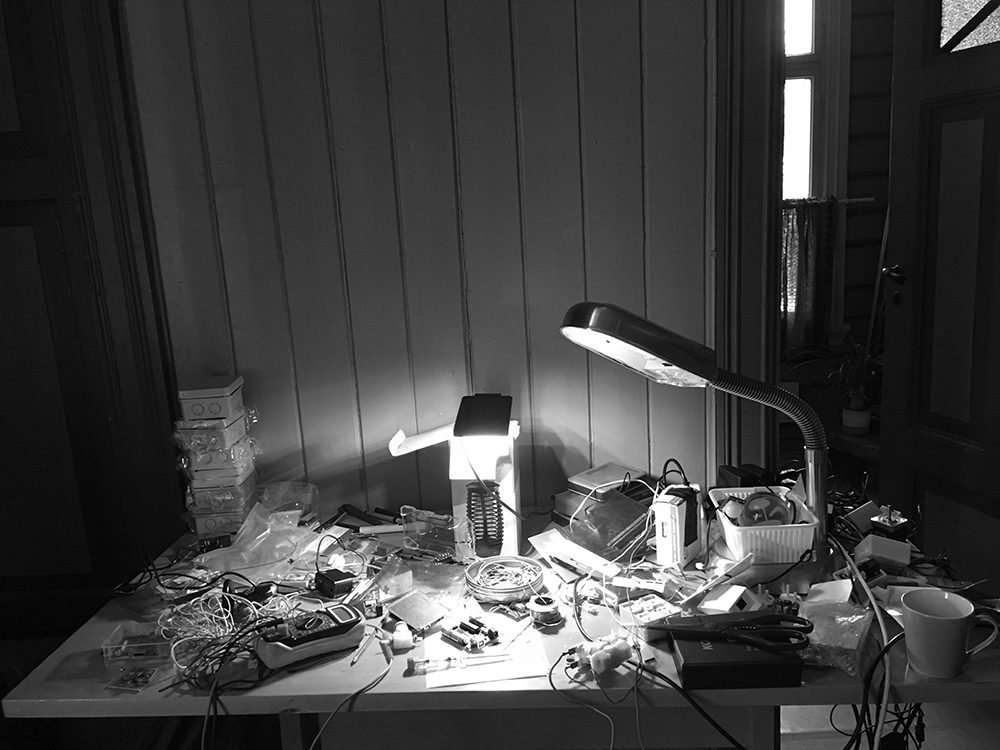 ------------

NO/



Samarbeidet


Samarbeidet mellom Andrea Bakketun og Peter Roessingh startet i 2008 da Bakketun inviterte Roessingh til å bidra i sitt avgangsprosjekt Comprehension based on walking sticks, umbrella sticks and disconnected emotions på Gerrit Rietveld Academie i Amsterdam. Roessingh utarbeidet da sensorer, kretskort og programmer som oversatte insektet Vandrende blad sine bevegelser til kommandoer for ombygde husholdningsapparater.

Grand Complications vektlegger viktigheten av samarbeid på tvers av fagfelt, og hvordan dette kan utvide forståelsen både i samarbeidet og utenfor. Kunsten kan gå inn i vitenskapen, – undeliggjøre en innarbeidet terminologi, tilgjengeliggjøre vitenskapelige oppdagelser, og hente fram potensiale for poesi og magi. Kunsten kan også fungere som en portal inn til egne refleksjoner rundt omverdenen. I dialogen mellom kunstner, vitenskap, teknologi og natur, gir Bakketun plass til eksterne krefter – både menneskelige og ikke menneskelige intelligenser. Den kollektive tilnærmingen gjør at det ikke er kunstneren alene som former verket og arbeidsmetoden.

Peter Roessingh (f. 1955, Ede/Wageningen, NL) er professor i biologi ved Universiteit van Amsterdam, og spesialiserer seg innenfor evolusjon av nye insektarter og da spesielt rollen luktesans og smakssans spiller. Arbeidet hans undersøker hvordan (forandringer i) den innkommende informasjon i en organisme har konsekvenser for adferdsmønster, og til sist evolusjonen av nye arter med ulik adferd. I tillegg har Roessingh en stor interesse for elektronikk, datamaskiner, robotikk og kunstig intelligens og muligheten for å skape liv-liknende organismer.

Andrea Bakketun er billedkunstner (f. 1983, Trondheim, bor og virker i Oslo/Viken. I Bakketuns kunstnerskap blir fysiske endringer og spenningsfelt i våre omgivelser koblet opp mot den menneskelige psyke. Ved å utforske objekters kinetiske og metafysiske potensial, ofte refererende til vitenskap, okkultisme og det hverdagslige, danner hun krysningspunkt og nye forbindelser mellom ulike virkeligheter. Hennes praksis involverer installasjoner, skulpturer og videobasert arbeid.



------------